'The Navigatio' Exhibition of Drawings by Alan Watson at the Scottish Fisheries Museum
Added on 24 April 2017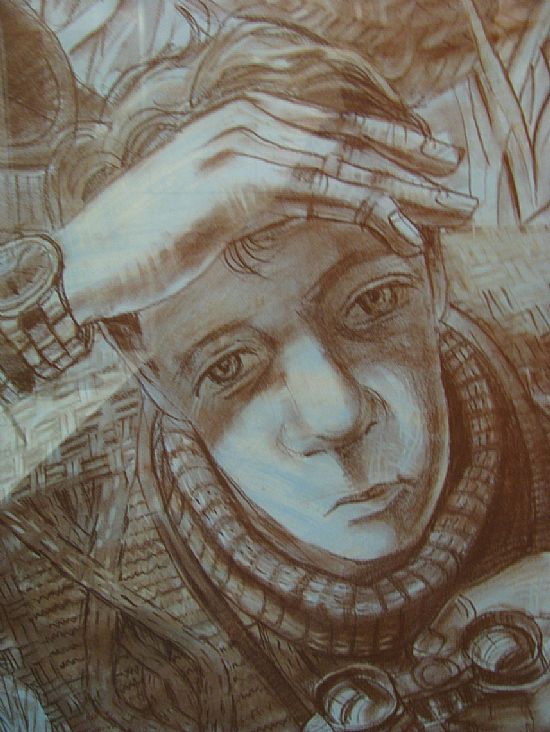 'The Navigatio' exhibition at the Scottish Fisheries Museum has now closed.
Alan Watson's drawing exhibiton 'The Navigatio' depicted scenes from St Brendan's epic sea voyage around the North Atlantic. The large scale detailed conte and charcoal drawings and a lithograph were accompanied by a display of tools the crew might have used on their journey from the museum's collections and their coracle, a small light version of a curragh.
The image on the left is a detail from 'The Soporific Well', conte on paper, 50"x35", 1998. (c)Alan Watson, 2017, All Rights Reserved. 'The Soporific Well' tells the tale of Brendan and his thirsty crew who after a long time rowing came upon an island with a plentiful food supply and more importantly a well. Despite Brendan's warnings the crew drink their fill and promptly fall asleep for 3 days. Only Brendan's fervent prayers break the spell the well had cast on the crew! On loan from Fife Council's collection. (c)Alan Watson b.1957 All Rights Reserved.
The drawings describe a sea journey. Topics include boats, journey of discovery, navigation, islands, icebergs, bird colonies, sea birds, the tale of the whale Jasconius, sailors, travellers, monks, pilgrimage, paradise.