Provenance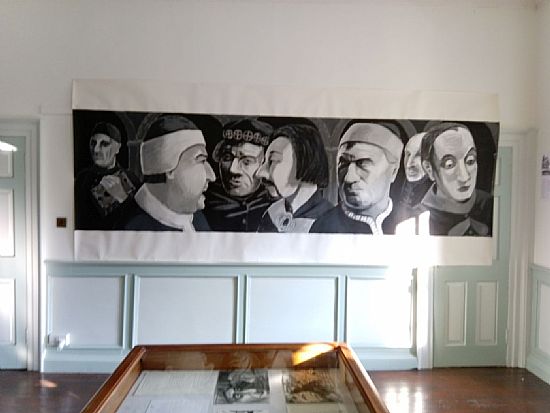 'The Kingmaker's' by Alan Watson 1990
'Bless This Voyage'
Lovely to see Alan's work exhibited again. This body of work was created to acccompany one of Alan's favourite authors George Mackay Brown's work, a prose poem for Balnain Books edition titled 'Sea-King's Daughter' published in 1991. The epic drawings were exhibited 369 Gallery Cowgate Edinburgh 1990. Displayed beautifully at Traquair House High Gallery.
14th August 2022 to 30th September 2022.
Pat Watson, September 2022.
'Homecoming'
There will be a memorial exhibition of Alan's work, aegis his alma mater Duncan of Jordanstone College of Art, reception foyer, September 23rd to 15th October 2019.
Pat Watson, August 2019
'A Time To Keep'
October 2015:
'A Time to Keep' is a series of my paintings and drawings inspired by the stories of my East Neuk fishing ancestors. The works were exhibited at the 369 Gallery, Edinburgh, in 1986 and toured thereafter. More about this series at my blog.
Image 1: Image 2:
'The Big Haul', 'Listening for Herring', 'Star Elick at the Long Lines' 'Star Elick at the Long Lines', 'The Drowning', 'Hauling the Line'.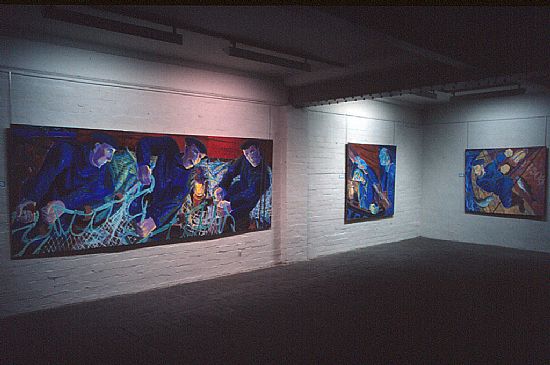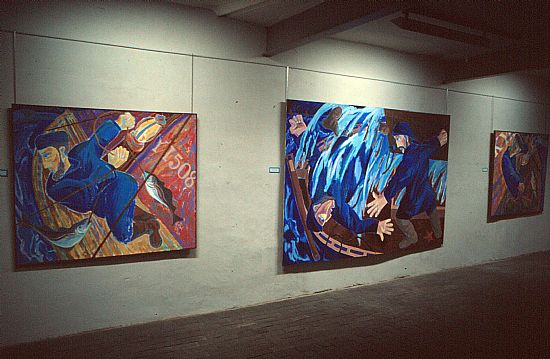 Installation shots from the 369 Gallery, Cowgate, Edinburgh, 1986
All photos and paintings below: Copyright 1986, scans 2015, (c)Alan Watson (b.1957) All Rights Reserved.
'Shooting the Net'
I am very pleased that the painting that was for sale at Chiswick Auction House (Lot 56) on 6th October 2015 has been acquired for the Scottish Maritime Museum collection, Irvine and Dumbarton. From the fishing painting series titled 'A Time to Keep', 'Shooting the Net', 1986, depicts an ancestor of mine fishing off the May Island circa 1870. He is 'shooting the net' which is the phrase my family used to describe 'casting the net'.

'Shooting the Net', 1986
Acrylic on Canvas, 50"x50"
Copyright Alan Watson b.1957
All Rights Reserved
Copyright and Missing Panels from a Tryptych - 'The Big Haul', 1986
This painting is comprised of a series of 3 boards but intended to be one painting. I was disappointed to see the right hand panel come up for auction some time ago but there was no record of what has happened to the other two boards. It would be good to hear from you if you happen to know where the two panels have gone and who is currently the owner of the third panel which carried my signature. You can write to me at alan@alanwatsonartist.com if you have any information about this issue. I'd love for this painting to be put back together again.
The Big Haul, 1986
Acrylic on Board, 50"x113"
Copyright Alan Watson b.1957
All Rights Reserved