Dramatic Fife
Added on 26 February 2015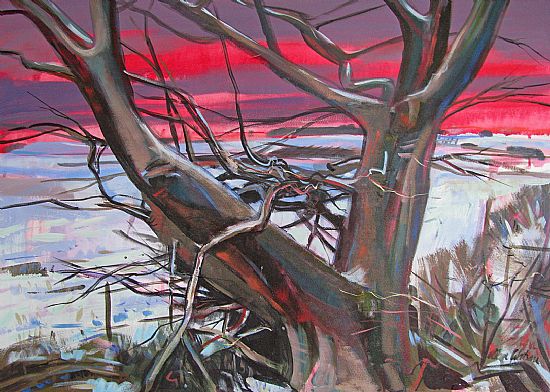 Winter Tree West Lingo, Acrylic on Paper
Copyright 2014 Alan Watson b.1957 St Andrews
All Rights Reserved.
My earliest memory of seeing landscape painting up close was visiting the Kelvingrove Gallery as a small boy. What struck me most forcibly that day and has remained such an abiding memory was the vibrant colours of what I now know to be the Glasgow Boys. I was not only astounded by the colours they used but the texture of the paint surface. To me it was so tactile all I wanted to do was to run my fingers along them.
I have always felt very privileged to live and work at the tail end of the Howe of Fife. We see the most amazing skies here. Fife's temperate climate treats those of us who live here with the most dramatic skies imaginable. The light of a winter's day or autumn evening cloaks the rolling hills and stands of trees in the most dramatic fashion.