Don't Look Back
Added on 15 November 2022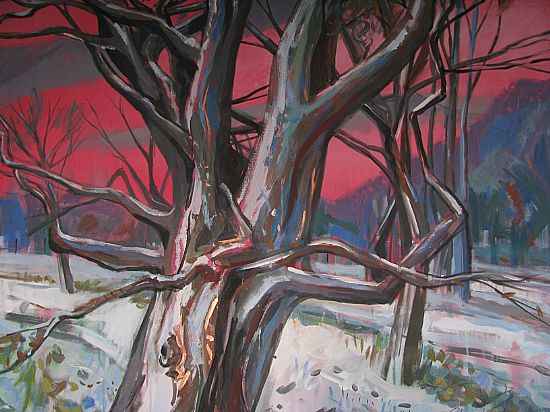 Winter Trees at West Lingo, 2012
Copyright Alan Watson b.1957 All rights reserved.
At this time of year I often find myself looking again at Bruegel's, 'Hunters in the Snow'. While on a travelling scholarship, having just finished Art School, I found myself looking at art books in a second hand bookshop in Florence. Picking up a book on Bruegel I realised that most of his really famous works were to be found in the Kunsthistorisches Museum, Vienna. It occurred to me I could take a train from Florence to Vienna. From that moment I built my travel plans around visiting as many Breugel paintings as possible, and ended up visiting Vienna, Munich, Brussels and Antwerp.
'Hunters in the Snow', is not as big in size as I had anticipated. The most surprising thing about this painting is how thinly the paint has been applied; washes of semi-transparent colour clearly show under painting and preliminary drawing. What still astounds me about this image is the fact that although this painting is clearly a complex imagined landscape and figure composition, none of the figures in the painting look out to us the viewer. Everyone has their back turned to us, intent on their own engagement with the heavy snowfall they find around them. Even the hunting dog, stooping to relieve himself in the bottom left hand corner of the painting, does not realise that we are watching from the perspective of a building or tree behind him. What a thoroughly modern image making don't you think? Perhaps Bruegel is hinting at a New Year's resolution for us all here.
Happy New Year!
last posted 30.12.2012